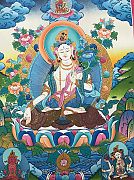 Sunday - White Tara Practice: Body Speech and Mind As the Deity (Online)
with Shastri Alexander deVaron
Zoom Link https://zoom.us/j/98224229486
Passcode: 691319
White Tara is said to witness the suffering of beings through her seven eyes, and she soothes their fear, calms their anguish, heals their suffering, restores their health—both individual and communal.
Sunday, November 14:
This month's session of White Tara Practice will be led by Alexander deVaron. He will also give a talk entitled:
Body, Speech and Mind as the Deity
Please join us for a brief practice invoking Tara, and a discussion of her qualities.
This program is offered free of charge, and open to the public.