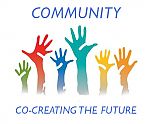 Community Meeting - (Online)
Community Meeting
An Update from the Transitional Leadership Team
Sunday, July 19th, 11:00 AM to Noon
Zoom Link https://zoom.us/j/98224229486
The Zoom link will be open 10 minutes before the session (10:50 AM) to accommodate technical adjustments and greetings.
At this month's meeting, the Transitional Leadership Team (TLT) will be kicking off a Volunteer Campaign to help ensure that all the members of our community have the opportunity to engage in supporting the Center and will be outlining a proposed process for developing a new leadership model.
These are two key milestones for the TLT and the Center. Your input and participation is essential to helping ensure that the center continues to thrive and meet the needs of the community. We're eager to hear what you have to say, and look forward to seeing some of you on the 19th.
Click here to register.

We look forward to hearing your voices, seeing your faces, and sharing a virtual space.


Donations