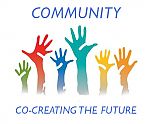 Sunday - Community Meeting - (Online)
This session is rescheduled from Sunday, May 17th.
Zoom Link https://zoom.us/j/98224229486
Pandemic Show and Tell
In the past two months, we have all been rocked around by the disruption in our lives. This Community Meeting is an opportunity to share something that has emerged from your experience that has brought you strength and delight. Perhaps it is an art project that finally got started (or completed), a performance piece, a venture into a new (or reshaped) volunteer opportunity, a new learning (share a bit of that newly acquired language), a new recipe, a transformed work moment, a serendipitous encounter with a person or with nature. If it would benefit from more show than tell, you can contact Adam for tech support. Feel free to bring coffee/tea and a brunch snack.
This situation is giving up a chance to individually re-examine our ordinary routines. At the same time, it gives us a great insight into how interconnected we are with each other. Let us come together to celebrate community and care
The hour will include a brief meditation, a check-in and a conversation to share the ways we are navigating our current situation.
Donations