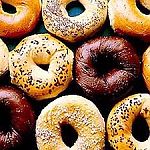 Sunday - Bagels & Dharma (Online): Make Me One with Everything
with Edwin Rupert
Online Bagels and Dharma (BYOB)
Join us for a free dharma talk and discussion in an online format from 11 am - 12 pm. Open to everyone. Just click on the link to join the Zoom meeting online.
https://zoom.us/j/98224229486 (The link will be open at 10:50)
BYOB (Bring your own bagel and beverage).
This month's talk by Edwin Rupert:
Make Me One with Everything
So many of us feel the pain of isolation and we long for a sense of unity with all creation. But for those of us who embrace Buddhist thought, there is an a requirement that comes with it: to realize that oneness, we must also engage with the transitory nature of all things, as well.
Donations