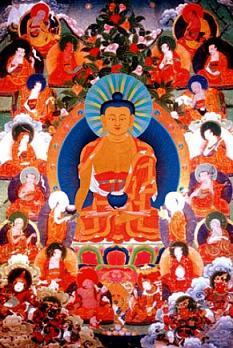 Shakyamuni Buddha: His Life, Teachings, and Students (Online)
with Thomas Berthoff
Shakyamuni Buddha taught 2600 years ago, but his life and teachings continue to inspire people around the world. This day of study and meditation will be dedicated to Shakyamuni Buddha's life example and teachings, as well as some of his principle students.
The day is intended as preparation for the Vaishaka Day celebration on Friday, June 5 (https://philadelphia.shambhala.org/program-details/?id=450347)
In the morning, we'll look at the Buddha's life and main teachings. In the afternoon, we'll hear about some of his main students, known as "arhats" (those who have attained enlightenment) or "sthaviras" (elders).
As this is an online program, I will open the Zoom meeting at 9:30 am and keep it open until 12:30 pm, then open it again at 2:30 and keep it open until 4:30 pm. I'll lead morning and evening chants, and we can practice together from our individual locations. I will give a talk at 11 am, and a talk at 3 pm.
I will send out information about the Zoom meeting before the program starts to everyone who is registered.