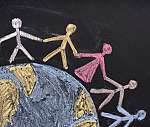 Online Community Practice Session & Check In - 7-9 PM
with Shastri Alexander deVaron & Marilia Marien
Zoom link - https://zoom.us/j/989726067
Zoom Dial In - 929-436-2866, 989726067#
You are warmly invited to join us Thursday evening, April 2, for an online gathering via Zoom.
We will create a virtual communal space for support and connection, practicing with one another and sharing where we are right now.

Led by Marilia Marien and Alexander deVaron, we can connect with each other as part of a supportive community in practice.
If you haven't already set up a free Zoom account on your computer or phone, please go to https://zoom.us/signup Alternatively, you will be able to call in if needed.