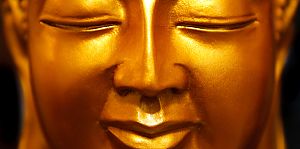 What the Buddha Taught: The Four Noble Truths and the Three Marks of Existence
with Marilia Marien
According to Buddhism, we suffer not because there's anything inherently wrong with us but simply because we misunderstand the nature of reality. This foundational teaching of the Buddha is presented in The Four Noble Truths and the Three Marks of Existence.
The Four Noble Truths are called noble because they liberate us from suffering. They are the Buddha's basic teaching, encapsulating the entire Buddhist path.
Life is challenging. For everyone. All of our life circumstances are fragile and subject to change.
The cause of suffering is the mind's struggle in response to challenge.
The end of suffering – a non-struggling, peaceful mind – is a possibility.
The way to end suffering is the Eightfold Path.
The Three Marks of Existence link directly to the Four Noble Truths and are another touchstone of the Buddhist path, a basic description of reality: suffering, impermanence and egolessness.
In this day-long program we will explore the transformative power of acknowledging things as they are, develop insight into how our mind colors our world, and leave with tools to free ourselves from the suffering caused by mistaken beliefs about reality.
_________________________
Please register online on each talk's separate program page.
March 7, 2020
What the Buddha Taught: The Four Noble Truths and the Four Seals of Dharma. (https://philadelphia.shambhala.org/program-details/?id=438630)

April 4, 2020
The Habit Called Ego: Looking Closely at Why We Struggle. (https://philadelphia.shambhala.org/program-details/?id=441847)

May 2, 2020
What the Buddha Taught: The Four Foundations of Mindfulness
June 6, 2020
What the Buddha Taught: Karma, the 12 Nidanas, and Auspicious Coincidence
July 11, 2020
What the Buddha Taught: Meditation, Wisdom and Conduct
August 1, 2020
What the Buddha Taught: Profound View and Vast Action
September 12, 2020
What the Buddha Taught: The Heart Sutra
October 3, 2020
What the Buddha Taught: Absolute and Relative Bodhicitta
November 7, 2020
What the Buddha Taught: The Six Paramitas
December 5, 2020
What the Buddha Taught: Lojong Practice
January 9, 2021
What the Buddha Taught: Vajrayana, the Union of Wisdom and Skillfulness