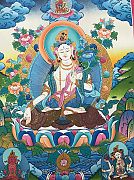 White Tara Practice (Online)
with Dr. Elaine Yuen
Zoom Link https://zoom.us/j/98224229486
Passcode: 691319
White Tara is said to witness the suffering of beings through her seven eyes, and she soothes their fear, calms their anguish, heals their suffering, restores their health—both individual and communal.
Sunday, January 9:
This month's session of White Tara Practice will be led by Elaine Yuen, who will also give a talk entitled Being Tara:
Tara practice encourages us to tune into her quality of compassion that protects from obstacles to health and supports long life. The talk will explore how Tara practice works with our thoughts, emotions and sense perceptions to create a field of kindness, caring and power. I hope to see you there.
Dr. Elaine Yuen is a contemplative educator, chaplain, and artist. She is the former Chair of the Wisdom Traditions Department and Professor at Naropa University in Boulder, Colorado. She has returned to Philadelphia and continues to teach and write on pastoral caregiving, contemplative education, and Buddhist studies. Elaine has been trained as a healthcare chaplain, and is also a meditation teacher and Upadhyaya (Buddhist Minister) in the Shambhala Buddhist tradition.
This program is offered free of charge, and open to the public.