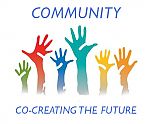 VIRTUAL 2030 Sansom: Philadelphia Shambhala Community Room Community Meeting - (Online)
Virtual 2030 Sansom:
Philadelphia Shambhala Community Room
Sunday, June 20th 11:00 -12:30 (online)
For our Community Meetings, the Transitional Leadership Team is experimenting with a different format. For many of us, we have missed simply seeing sangha friends and meeting new dharma acquaintances, and sharing brief moments of connection that have a strong impact on us.
This virtual gathering will evoke in some way the physical community room - where we all land at some point, where all paths intersect, where, in this relaxed space with its books, artwork and living room comforts - we have all shared deep discussion, laughter, tears and many snacks.
This month we'll have an open conversation around whatever is of interest to those who show up. That could include personal updates, thoughts about current events (local and global), ideas for projects, programs and activities, Nothing is off limits. We'll offer a "Conversation Starter" and see where it goes!
Zoom Link https://zoom.us/j/98224229486
passcode: 691319
The Zoom link will be open 10 minutes before the session (10:50 AM) to accommodate technical adjustments and greetings.
Donations