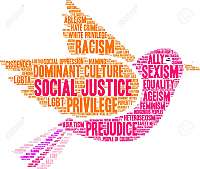 Transforming Racism from the Inside Out (Online)
Registration will close after the first class.
Book Study and Discussion Group: Mindful of Race; Transforming Racism from the Inside Out, by Ruth King (Online)
"Racism is a heart disease. How we think and respond is at the core of racial suffering and racial healing. If we cannot think clearly and respond wisely, we will continue to damage the world's heart." Ruth King
As part of our Social Justice Initiative, the Shambhala Practice and Education Committee is offering a Study and Discussion Group based on the book Mindful of Race; Transforming Racism from the Inside Out, written by Ruth King. This book can help us explore more deeply how we experience and act out racial identities and assumptions.
In this book, readers of all backgrounds can look anew into the dynamics of racial identity and oppression. With wisdom and compassion, the author guides us to recognize and work with our own role in the story and how with mindful practice we can find greater clarity and care as we move towards greater social justice for all.
As a reading and study group, our purpose will be to learn and grow in our awareness as we practice friendship, kindness and open curiosity. The group will meet weekly for five weeks to read and discuss the Introduction and the first four chapters. We will take a short break and then continue with Part 2 and 3. Lynne McMahon and Rebecca Narva will co-facilitate our meetings. Participants are expected to purchase the book and to have read the Introduction for the first meeting.
Ruth King is a Buddhist teacher in the Insight Meditation tradition. She teaches a Mindful of Race Training Program which "blends mindful meditation principals with an exploration of our racial conditioning, its impact, and our potential." She has a Master's degree in clinical psychology from John F. Kennedy University, Orinda, CA, and is the author of several publications. A native Californian, King currently lives in Charlotte, NC.