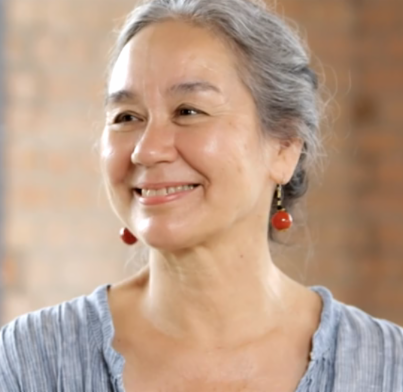 Friday Night Talk: Not-knowing is the Place Where Something Can Arise
with Acharya Arawana Hayashi
Every individual, every social situation, every organizational or creative process has obstacles, challenges, questions—stuck places where we don't know how to move. Explore with Arawana Hayashi how the skillful means of Social Presencing Theater - social change founded in meditation, creativity, and the insights of Theory U - invite us to uncover the wisdom hidden in those "stucks." SPT is an embodied presence practice that honors the wisdom held in each individual body and also within the collective social body.

Social Presencing Theater is an embodied practice. A practice is something we do, and do repeatedly, to deepen our experience and our understanding. Being in our body, firmly planted on the Earth body and in our various social bodies is something we do day after day, year after year. Mindfulness of body, embodied presence, awareness of our social bodies and of the open space of creativity are all innate; we can cultivate these qualities and practices. SPT practices are a way of life – a way of integrating ourselves and our world. The practices reveal our limiting patterns as well as our vast, open mind and heart. We need to practice because we tend to forget about our inherent wisdom. We forget who we are. We forget our interdependence with all living things. We forget that it is our job to help out this world. We practice to remember our true human nature.
Friday evening's presentation is both a stand-alone Friday Night Talk, and the introductory session for the weekend program "Welcoming Stuck Places"
All paid registrants will receive a link to the zoom recording of the talk early the following week.
---
Arawana Hayashi is an acharya (senior teacher) in Shambhala. She teaches both meditation and art-based practices for bringing out the basic goodness of individuals, of relationships and of society. Arawana's pioneering work as a choreographer, performer and educator is deeply sourced in collaborative improvisation. She currently heads the creation of Social Presencing Theater (SPT) for the Presencing Institute.