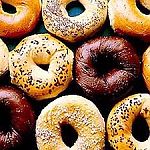 Bagels & Dharma: Do You Believe In Magic? (Online)
with Jude Robison
BAGELS & DHARMA IS BACK!!!
Do You Believe in Magic?
In Shambhala we often speak of "ordinary magic". This magical quality is not something that we believe in, but rather something we can experience, ­ something we do experience, whether we recognize it or not. The world is continually inviting us to step into this realm of ordinary magic. Alas, we are often too busy, too preoccupied, too self-involved to accept the invitation.
Our current culture is one of scientific materialism – if it can't be counted, it isn't true. But even science is being led into the realm of magic – things that simply can't be explained by what is already known. In traditional cultures (including the ones that we are all descended from) magic, spirits, energies, were part of everyday life. What have we lost by abandoning that heritage? What might we gain by rediscovering its power? And how might we accomplish that?
The experience of ordinary magic is an embodied one, grounded in our sense perceptions, with a willingness to let go of what we know, to leave the cave of our concepts, and to open to what is. So toast your bagel, pour your java, and let's talk about magic.
Zoom link: https://us02web.zoom.us/j/98224229486
Passcode: 691319