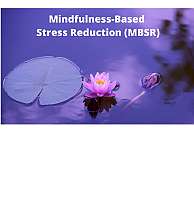 Mindfulness Based Stress Reduction
with Marilia Marien & Aurora Casta
Monday evenings: January 18 - March 15, 2021, 6:30 PM - 9:00 PM
Required Orientation: Monday, January 18, 6:30 PM - 9:00 PM
Day of Mindfulness: Saturday, March 6th, 10:00 AM - 3:00 PM
Price: $500 Patron, $450 program, $400 sustaining. People who took the class with us before can take it again for $300.
Mindfulness-Based Stress Reduction (MBSR) is a class grounded in research that teaches skills to help you further develop your ability to cope more effectively with expected and unexpected life stress. Research on MBSR suggests that it can support overall well-being, nurture healthy relationships, and improve quality of attention.
Participants attend eight weekly, two-and-a-half hour classes and a one-day, guided day of mindfulness following the MBSR model curriculum developed by Jon Kabat-Zinn, PhD.
Classes consist of a variety of guided practices including sitting meditation, gentle mindful movement, and walking meditation. Additionally, to facilitate development of awareness and application of the skills to everyday life, participants engage in active listening and sharing of their class-related experiences. Participants are encouraged to practice the learned mindfulness skills daily. These daily practices take a minimum of 25 minutes, with a recommendation to gradually increase the practice time to 45 minutes a day. Remember, the more you practice the easier it can be to integrate the skills learned into your daily life.
Class materials are provided online, including handouts and audio recordings of guided practices for use at home. Class size is limited to support group connection and learning.
A computer and high-speed internet connection are most preferred to optimally participate in the class. Phones are not recommended as their use is less reliable and the participant's ability to connect with the entire class is limited. Participants are required to have their cameras on during the vast majority of the class.
After registering online, you will receive two forms and have the opportunity to schedule a brief conversation with a class facilitator.
Please note that there are times when mindfulness may increase one's level of distress and it's important to consider that this might not be the right time to take this class. The registration process allows us to determine together if now is the right time for you to take this class.
Course leaders Aurora M. Casta and Marilia S. Marien are Certified Teachers of Mindfulness-Based Stress Reduction and Certified Mindfulness-Based Cognitive Therapy Facilitators. They have taught MBSR classes since 2014 and Mindfulness Based Cognitive Therapy groups since 2017.
Registration closed
or
[email protected]
to register to participate in the Orientation class to see if MBSR is right for you now.