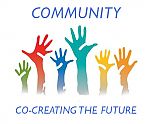 Community Gatherings: From Reflection to Action
The Transitional Leadership Team is delighted to announce that Keelin Barry, Marilia Marien, and James Avery, have come together to form a governance working group. Their current work will initiate a community discussion about what form of governance would be best for our center here in Philadelphia. Please join us at the third Community Gathering: From Reflection to Action, on Saturday, October 24th from 1:00 to 2:15 pm.
Donations
This program is offered free of charge, but all donations are greatly appreciated to help us sustain our physical space during this time.