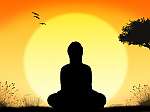 Meditation and the Path of Sad-Joy (Online)
with Shastri Alexander deVaron
How can we fully open to both the beauty and the pain of the world without falling into despair? In Shambhala this is called the "tender heart of sadness," and is cultivated through meditation practice. This sadness is inseparable from a type of joy: the unconditional joy that grows out of embracing every part of ourselves, from our gloriously free moments to the moments when we feel completely stuck.
These two complement each other perfectly. Sadness enables us to be joyful without becoming smug or insular. Joy enables us to become sad, open and vulnerable in a way that expands outward rather than collapsing inward.
Through taking this class you will become familiar with the liberating experience of sad-joy, both in meditation and in your daily life.
After you register, you will be sent the zoom link for the class.
Alexander deVaron began meditating in 1980, and studying in Shambhala in 1982. He met Chögyam Trungpa in 1985, and was empowered as both a teacher and meditation instructor in 1986. From 1991 to 1996 he lived at Karmê Chöling retreat center, serving in the practice and study department. In addition to teaching in Shambhala, he has taught stress management programs for the Penn Program for Mindfulness, and is a Professor of Music at Temple University.