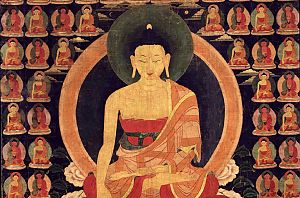 What the Buddha Taught: Meditation, Wisdom and Conduct (Online)
with Joann Herson
What the Buddha Taught: Meditation, Wisdom and Conduct
"The practice of meditation is a first-hand observation of mind. Meditation in Buddhism is not a religious practice, but rather a way of clarifying the actual nature of mind and experience."
~Chogyam Trungpa, The Sanity We Are Born With: A Buddhist Approach to Psychology
Traditionally, meditation training falls into three categories:
Shila (discipline) refers to simplifying our lives, not burdening ourselves with unhelpful activities. Discipline here is about caring for ourselves and those around us.
Samadhi (meditation) is the actual practice through which we make friends with ourselves and engage directly with our experience, beyond our habitual patterns.
Prajna (insight) is the power that develops through our practice that enables us to transcend confusion and neurosis, and to know the reality of our minds and our world.
The morning (10:30 - 12) of this program will explore Shila as an extension of caring and Samadhi as an extension of engagement. The afternoon (1:30 - 3) will explore Prajna as power or ability. There will be periods of guided meditation, talks, and discussion.
A zoom line will be sent to all those who register for this program.
Joann Doneen Herson, a dharma practicioner and visual artist, is a long time member and
former Director of the Philadelphia Shambhala Center. She has studied with both Shambhala and Ningma teachers and maintains a visual Art discipline. Her recent inspiration includes teaching the contemplative path of Shambhala Art and connecting with people interested in studying and practicing dharma and meditation.
Please join her in the discussion, exploration, and practice of the 3 foundational principles of all Dharma: Discipline, Meditation and Wisdom.