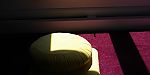 Guided Meditation: On the Cushion and in Everyday Life (Wednesdays Online 7-7:45 pm)
There are a lot of unknowns in the world right now, but one thing we can rely on is the wisdom of meditation practice. These guided practices will offer support as you navigate the current situation, enabling you to meet it with greater awareness and compassion, and help you tap into your inherent resilience for yourself and those around you. For each of the guided meditations we will focus on a formal practice (on the cushion) and then discuss how we can bring those practices into our everyday lives.
You do not need to attend every session in order to participate. This program is provided using the Zoom link.
The link will be open 10 minutes before the session (6:50 PM) to accommodate technical adjustments and greetings. Please join us!
Wed April 22: Basic Practice of Sitting Meditation
Wed April 29: Open Practice/Bare Attention
Wed May 6: Working with Difficult Emotions
Wed May 13: Self-compassion
Wed May 20: Compassion: The Four Immeasurables