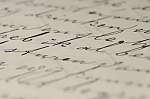 Speaking your truth despite the obstacles: an online creative writing class open to all prose and script writers
Please register for this class to receive Zoom Link
This prose and scriptwriters workshop will meet online. The workshop has a focus upon overcoming the obstacles to writing about what really matters and what is the most meaningful to oneself.

Some fun and/or challenging exercises will be offered to enable people to develop greater empathy in writing, and to understand how times of deprivation can be transformed with the sympathetic imagination.

Sharing in the workshop will be optional but encouraged. After the first meeting, there will be group workshop critiques possible for any who want to submit (usually shorter works) to a workshop process. Longer works can be shared over several meetings.

There will be also be an online private google group created for this workshop so that people who cannot attend every session can keep up from afar.

There will also be suggested readings from free online resources so that the class may discuss some great writers, if they want to.
Jeffrey Ethan Lee's novel The Autobiography of Somebody Else was published by White Pine Press (2016.) His poetry book, identity papers was a 2006 Colorado Book Award finalist and his first poetry book, invisible sister (Many Mountains Moving Press, 2004), was praised in American Book Review etc. Towards euphoria was co-winner of the editor's poetry chapbook prize from Seven Kitchens Press (2012). He won the 2002 Sow's Ear Poetry Chapbook prize ($1,000) for The Sylf (2003), and the chapbook Color Schemes was a finalist for Moonstone's first poetry chapbook prize in 2015. He has taught Creative Writing at Muhlenberg College, Temple University, West Chester University, University of Northern Colorado, etc.