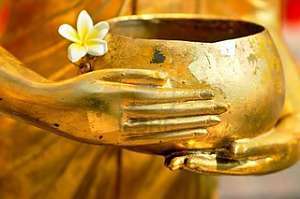 Buddha, Dharma, Sangha: Exploring the Refuge Vow (Online)
with Thomas Berthoff
The Refuge Vow marks the decision to commit oneself wholeheartedly to the Buddhist path and to meditation practice and study of the Dharma. It is the formal commitment to being a Buddhist, following the example of the Buddha, his teachings (the dharma) and joining the community (sangha) of fellow practitioners.
Taking refuge is common to all Buddhist traditions, going back to the time of Shakyamuni Buddha himself. It marks the moment where we declare ourselves to be practitioners of the Buddhadharma - the path of awakening according to the teachings of Shakyamuni Buddha - for this lifetime.
The class consists of five classes, all offered via Zoom using the meeting link https://zoom.us/j/3076674386
Password: 896697
The classes are meant to be taken as a whole, but attending one or more of the classes is fine.
This class is open to anyone interested in exploring what taking refuge means, whether or not you're planning on taking the vow, or whether or not you've already taken refuge.
The "Refuge Vow Sourcebook" (https://www.kalapamedia.org/ProductDetails.asp?ProductCode=BZE291 or https://www.samadhicushions.com/The-Refuge-Vow-A-Sourcebook-p/s-3561.htm ) is a great support for understanding the vow.
There is no fee for this program. If you would like to support the Shambhala Centre with a financial donation, visit our donation page.