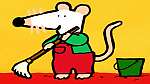 Preparation for Lunar New Year - a Clean Sweep !
Please join us for another New Year tradition: Cleaning!!! On Sunday, February 23, from 10:00 to 2:00 we will be attracting positive energy into the environment, or as we say in Shambhala: "Magnetizing the Dralas."
By uplifting our space to start the year, we invite a sense of freshness, new beginning, openness and possibility. Usually we do projects that aren't attended to all year, organizing, cleaning and finishing any lingering projects. If there's something you've been itching to organize or take care of, or if you simply want to offer your help, please come join us.
Volunteers are welcome for all or part of the time allotted.
Contact Connie: connie.youkonATgmail