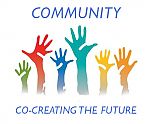 Community Meeting: Co-Creating our Future
Our community is currently in discussions about the future of our center. Through heartfelt and well facilitated conversations, we identified three areas in which we want to take action as we begin to co-create our future:
Examine our current teachings and culture
Explore our relationship to Shambhala International's organizational structure, and how we might re-imagine the structure of our local Center
Acknowledge and open communication about whether people have been harmed in Philadelphia, and if so, how we can establish a healing process
Community Meeting's provide an opportunity to get updates on progress that has been made related to these areas of exploration and to work with fellow community members on co-creating our future.
If you can attend, please register to give us a sense of how many people to plan for. An agenda for the meeting will be sent a week before the meeting.
If you have questions about the meetings, please do not hesitate to contact:
Adam Tecza adam.tecza AT gmail.com
Jude Robison juderobison108 AT gmail.com