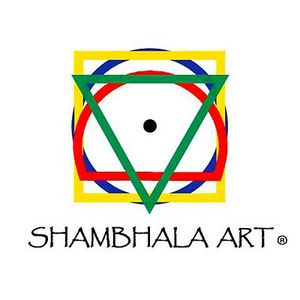 Shambhala Art - Part One: Coming to Your Senses
with Shastri Alexander deVaron
The creative process has more to do with perception than talent. It requires that we first perceive our world as it is before we can represent it in some form or use it as a launching pad for expression. Meditation helps this process by clarifying our perceptions, relaxing our relentless self-dialoguing, and revealing the source of creativity. We also learn through meditation that we can rest in "square one," a state of mindfulness and awareness where our mind, body, and environment are synchronized and self-expression can transform into pure-expression.
In part one of the five-part Shambhala Art curriculum, we develop meditation as the ground for all creative endeavors. Through a sequence of experiential exercise, we glimpse our capacity for spontaneous creative expression that is independent of agenda or forced cleverness. These glimpses provide the initial confidence that we can rest with ourselves and our world.
About the Teacher
Alexander DeVaron began meditating in 1980, and studying in Shambhala in 1982. He met Chögyam Trungpa in 1985, and was empowered as both a teacher and meditation instructor in 1986. From 1991 to 1996 he lived at Karmê Chöling retreat center, serving in the practice and study department. In addition to teaching in Shambhala, he teaches stress management programs for the Penn Program for Mindfulness, and is a Professor of Music at Temple University.
Shambhala Art - Part Two
Shambhala Art Part Two will be offered on Sunday, February 16, 2020. Shambhala Art Part One must be taken before Shambhala Art Part Two.
About the Five-Part Shambhala Art Curriculum
As an arts education program, Shambhala Art's mission is to encourage the exploration of how meditation and contemplation works with the creative and viewing processes. Shambhala Art can be seen as a process, a product, and an arts education program. As a process, it brings wakefulness and awareness to the creative and viewing processes through the integration of contemplation and meditation. As a product, it is art that wakes us up. Shambhala Art is also an international non-profit arts education program based on the Dharma Art teachings of the late Chögyam Trungpa Rinpoche, the founder of Shambhala Buddhism, Shambhala, and Naropa Institute, now Naropa University.
Discounts for Taking Both Shambhala Art Programs and for Repeating Programs
Participants who register for both Parts One and Two will be eligible for a discounted price of $150 total for both programs. Please contact [email protected] for details. If you have already taken Parts One and Two, you are warmly invited to take them again at half price. There will be new exercises and information.
Generosity Policy
Please contemplate how much you can offer and give more, less, or the suggested amount based on your individual circumstances. The tuition amount reflects our cost to offer the program Our generosity policy supports individuals who need to pay-what-you-can due to financial hardship. Thank you!
For questions or more information please contact Barbara at: [email protected]
Shambhala Art Links
Our Facebook Page
Our Flickr Gallery
Our YouTube Channel
Shambhala Times Arts & Poetry