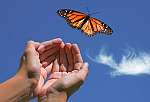 Shambhala Path of Warriorship Weekend I: Awakening Goodness
with Jude Robison
Many of us today are disheartened by the hostility, fear and extreme views that seem to have infected our society. Our concern, and our underlying longing for a good and decent society, is where the Shambhala path of warriorship begins. Trungpa Rinpoche defined a warrior as "someone who is brave enough not to give in to the aggression and contradictions that exist in society." In this time of confusion and fear, we can gather as a community, to discover the potential and power of meditation practice.
Through the practice of meditation, we can discover the openness, genuineness, inquisitiveness, bravery and gentleness that is our very nature. This is the ground from which warriors everywhere and in every time have built nurturing and thriving societies. This is our birthright as human beings ­­– our "basic goodness."
Our time together will include:
• guided meditation instruction and practice
• contemplative practice 
• talks and group discussions
• a concluding reception
Shambhala Training is a series of contemplative workshops suited for both beginning and experienced meditators. The simple and profound technique of mindfulness and awareness that is used can benefit people of any spiritual tradition and way of life.
We are committed to making our programs accessible to all. Our Generosity Policy applies to this program.